Spiced black tea in steamed milk
Shot of espresso in a Chai Tea Latte               
Dutch cocoa in steamed milk, whip cream
White chocolate in steamed milk, whip cream              
Steamed milk with choice of flavor, whip cream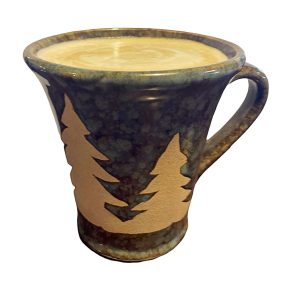 Gourmet espresso, straight up
Espresso shots and hot water
Shot of espresso added to brewed coffee
Espresso with half steamed milk & half froth
Latte with dark chocolate, whip cream
Espresso & steamed milk (flavor .50 extra)
Latte with white chocolate, whip cream
A Mocha with coconut & almond, whip cream
Latte with apple flavoring and caramel sauce, whip cream
Caramel and cinnamon Latte, sprinkled with natural sugar
Caramel Latte, drizzled with caramel, sprinkled with sea salt
Blend of chocolate and caramel, topped with whip cream, drizzle and sea salt
Chocolate, caramel & hazelnut latte, whip cream
Chocolate, caramel & English toffee latte, whip cream
Turtle Mocha made with white chocolate, whip cream
Mocha made with half dark & half white chocolate, whip cream
Dark and white Chocolate, cream de menthe, and whip cream
White chocolate, macadamia nut & hazelnut, whip cream
Cheesecake and caramel, topped with caramel drizzle, whip cream
White Chocolate Raspberry Mocha
Blend of white chocolate and raspberry, whip cream
MUSKIE WATERS 'Muski-ato'
Vanilla latte, marked with espresso & caramel drizzle, whip cream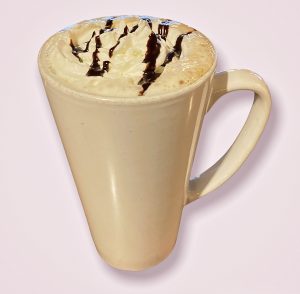 Mocha with a shot of cinnamon, whip cream
Blend of chocolate and marshmallow, whip cream
White Mocha with touch of cinnamon, whip cream
Dark chocolate Mocha with cherry syrup, whip cream
(made with fruit puree) Strawberry, Strawberry Banana, Northwoods Berry, Lemonade, Mango Tropical, Pina Colada, Mocha, or Chai Tea
Any of the specialty drinks, blended
Freshly brewed Tea, ask for the flavor of the day
Italian Soda or Cream Soda
Carbonated water & choice of flavor
Vanilla ice cream submerged in cold soda
Vanilla ice cream, hot fudge, caramel, pecans, whip cream, cherry, mini turtle on top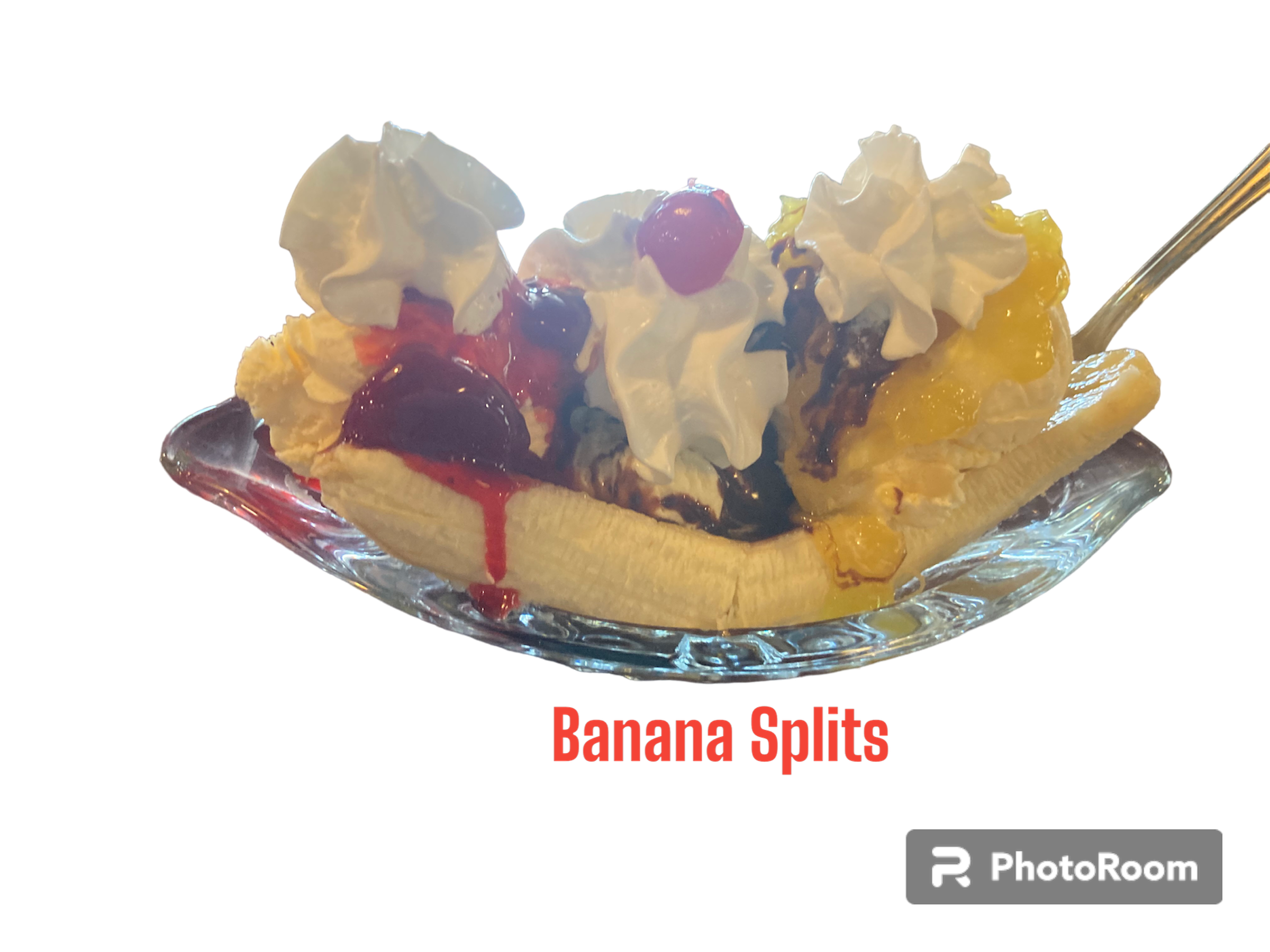 Banana Split
Three scoops of vanilla ice cream atop a whole split banana and topped with toppings of your choice, whip cream and a cherry.  DELISH!
Vanilla ice cream, hot fudge, peanuts, whip cream, cherry, chocolate covered peanuts
Mint chocolate chip ice cream, hot fudge topping, whip cream, mini chocolate chips, fudge brownie
Vanilla ice cream or flavored ice cream, hot shot of espresso, whip cream, chocolate drizzle, chocolate espresso bean
Specialty Malts & Milkshakes
Vanilla• Chocolate• Hot Fudge• Caramel• Butterscotch• Strawberry• Cherry
Chocolate and Cream de Menthe
Chocolate and peanut butter 
Peanut butter and strawberry topping
Our special cake mix with sprinkles 
Banana and caramel topped with burnt sugar
Chocolate and marshmallow, topped with sugar cone pieces
Pineapple and Coconut Hawaiian
Pineapple, coconut and banana 
Peanut butter and marshmallow shake
Cotton candy ice cream, marshmallow, sprinkles, pixie dust,  mermaid tail 
Hot fudge, marshmallow cream and peanuts
Strawberry shake, marshmallows, sprinkles, pixie dust,  unicorn lollipop 
Hot Fudge and Oreo espresso shake: add a shot of espresso
Chocolate malt with a shot of espresso added
Mint chocolate chip ice cream and espresso shot 
Hot fudge, Oreos and espresso shot
LUNCH MENU: served with chips and a pickle
Diced chicken, celery, grapes and almonds tossed in a greek yogurt dressing with lettuce on Cranberry Wild Rice Bread
Turkey breast, cheese, mayo, lettuce and tomato on Artisan bread. On Cranberry Wild Rice Bread add $1.
Grill pressed sandwich with provolone cheese, chicken breast, pesto mayo and tomatoes
Grill pressed sandwich with pepper jack cheese, chicken breast, and BBQ sauce (regular or spicy buffalo)
Turkey breast, provolone, tomato and avocado spread melted together on ciabatta bread
LUNCH MENU: served with chips and a pickle
Grilled chicken breast tossed with BBQ sauce, shredded cheese, lettuce and tomato rolled in a wrap
Diced chicken breast tossed in ranch dressing, shredded cheese, lettuce and tomato
Diced chicken breast tossed in Caesar dressing, cheese, lettuce, tomato and croutons
Turkey, cheese, lettuce and tomato with hummus spread
Turkey, cheese, lettuce and tomato with avocado spread